Reviews & Testimonials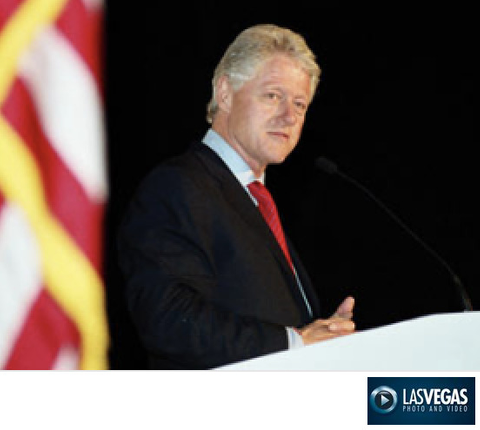 "I want to thank-you for the photo album of the Columbine Memorial Ceremony. You were kind to send it, and I appreciate your great work in covering such an important event"
- Bill Clinton, 42nd. President of the United States
"The photographs were beautiful and we really enjoyed sharing them with our partners!"
- Ligeia.Z - Amazon Web Services.
"Woo hoo! This is fantastic. Thanks for all your hard work, and speedy service 😊"
- Roxane L. - Montigo (Tradeshow Highlight Video Client).
"We will certainly keep you in mind for future events on the West coast."
- Nicol D. - VMWare
"Thank you so much for sending the photos! They look great! Ben and I are so pleased with your efforts and how amazing the photos came out. I look forward to hopefully partnering with you again in the near future!"
- Charlene L. - VincentBenjamin
"I will absolutely keep you in mind for any needs we have. You were fantastic!
- Ashley L. - Liquibox
"The video was great! Thank you so much 😊"
- Val B. - SAR Global Signs
"Thank-you for everything. It was great working with you once again and I look forward to working with you when we return to Vegas in two years."
- Jermaine P. - AIADA
"The highlight video is great!"
- Mark.D - Western Sports Foundation.
"I realized that I didn't respond to your amazingly fast edited images from our event. These are perfect. We loved working with you. We hope we can do so again in Las Vegas another time"
- Bahar -United States Chamber of Commerce.
"I am always impressed how you guys are always on top of it! Rare in this industry"
- Dennis S. - Las Vegas Event Planner.
"Thanks for everything this week - it was a pleasure working with all."
- Katie S. - National Hardware Show.
"I heard everything went really well and that the client was really happy.
Thanks for everything!"
- Rachel M. - Bob Gail Special Events. Los Angeles Event Planner.
"You're definitely at the top of our list next time we need a photographer"
- Vickie H. - HCA Hospital Corporation of America.
"Thanks again for quickly putting this together and for making all the revisions. You guys rock!"
- Robin O. - Las Vegas Destination Management Company.
"Always a pleasure working with you and the extended LVPV family. This was the smoothest year yet for me since I started producing NFM Photography!"
- Kevin G. - INVISION Communications.
"The photos were great! Lots of engaging shots."
- Leah HRSG User's Group, Inc.
"I want to say a big thank-you to you both for doing a fantastic job on the photography! All the photos looked really good and your can do attitude onsite to get the sponsor photos. It has been a pleasure working with you both!
- Anita B. CAPA Centre for Aviation
"Your donation in kind of your photography services is sincerely appreciated"
- Melanie B. - Grant A Gift Autism Foundation
"Thank you! You were great to work with, as always. See you soon for upcoming events"
- Jackie F. - Las Vegas Metro Chamber of Commerce