Trade Shows & Expos
Trade Show Booth Photography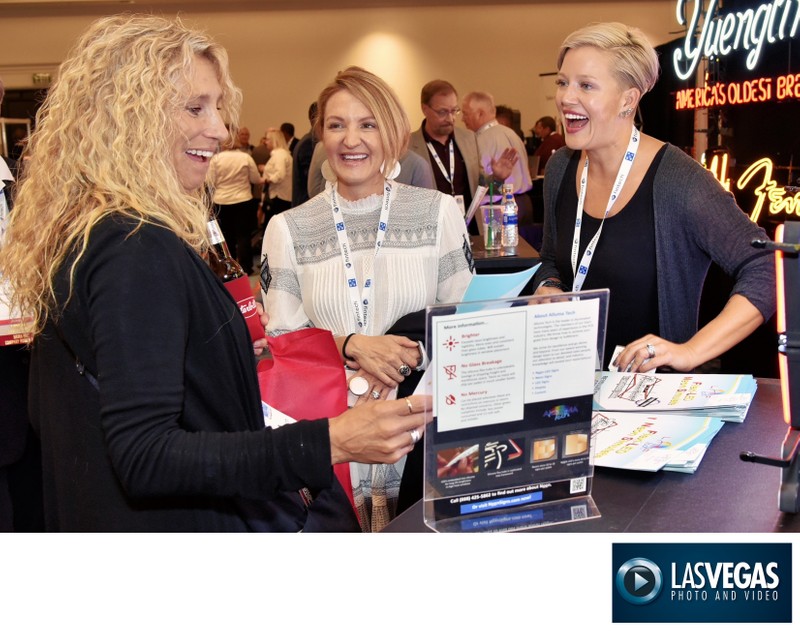 You can't miss with dynamic images of attendees with your staff at your tradeshow booth captured by our corporate photographer!
HELPFUL HINT:
Many events either display notices onsite, or include wording in the ticketing package explaining that attendees may be photographed or videotaped while at the event and that the images / video may be used by the event and or the exhibitors for marketing purposes etc. If this is not done at your event then you may want to have people who are featured in photographs and/or video at your booth sign a release so that you can use the images and footage in any way you wish.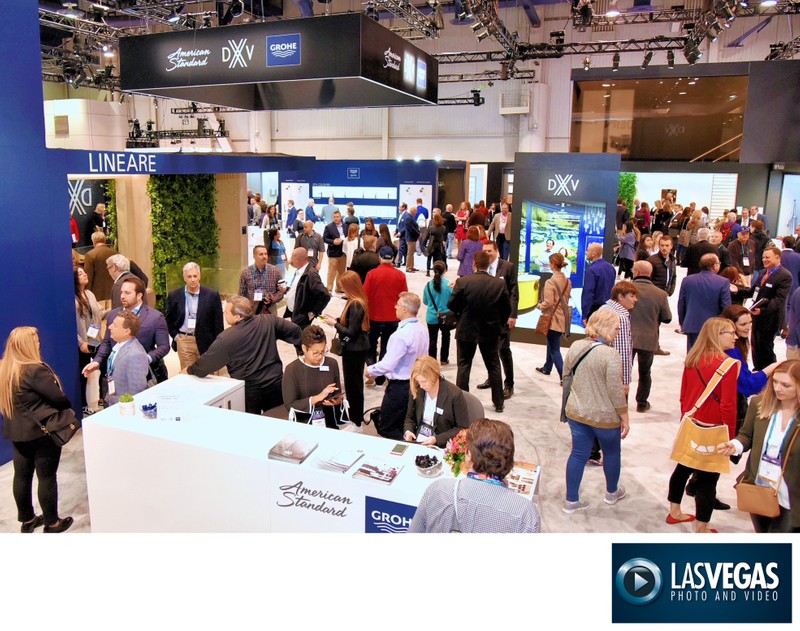 Crowds of attendees at the American Standard Booth at the National Hardware Show at the Las Vegas Convention Center.
HELPFUL HINT: Our staff will probably need credentials or a badge to be able to enter the trade show. Often, our clients will provide us with an "Exhibitor" badge for the photographer / videographer(s) to use. However, some shows want us to wear "Press" or "Media" badges, so if you could check with the show well in advance that would be very helpful.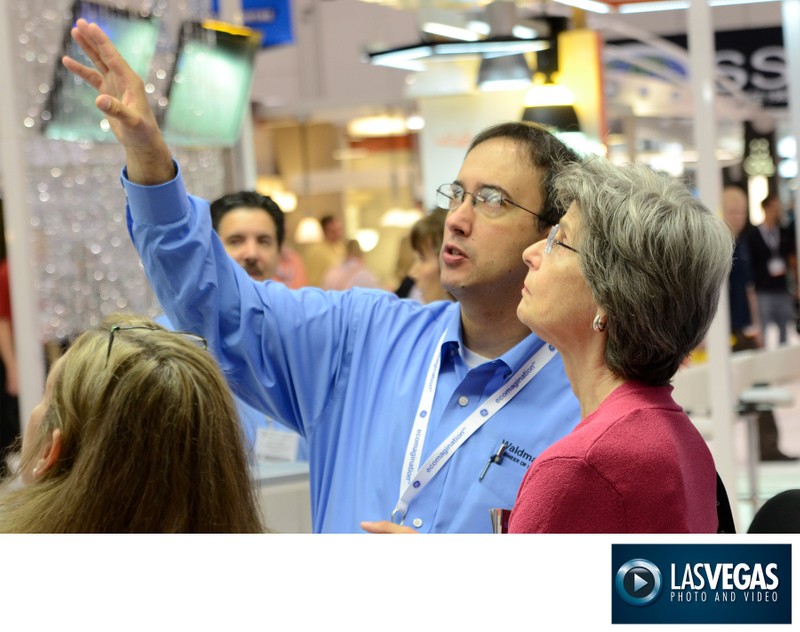 An exhibitor explains the benefits of of their lighting products to an industry buyer at the show.
HELPFUL HINT:
If you are looking for a cheap giveaway at your booth - then a branded package of lip balm is the way to go! Attendees and exhibitors from out of town will not be used to the Las Vegas dry desert air and will remember you for saving their lips! Branded bottles of water are also great to have as a giveaway.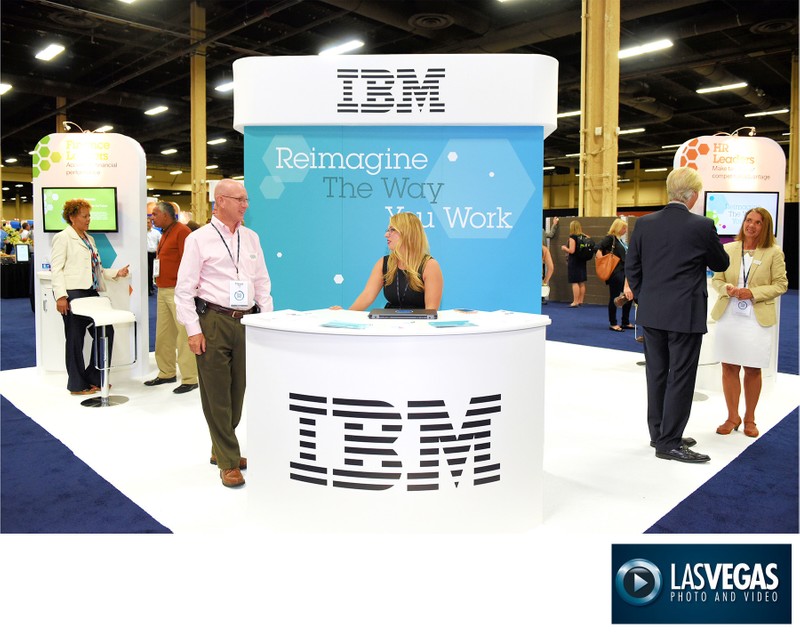 Small trade show booth with exhibitor staff and guests.
HELPFUL HINT:
Wear comfortable shoes or bring a change of footwear with you to the show! You will definitely "get your miles in" at a Las Vegas trade show! Even if you are largely stationary at the booth, long hours of standing can be uncomfortable for anybody who is unused to it.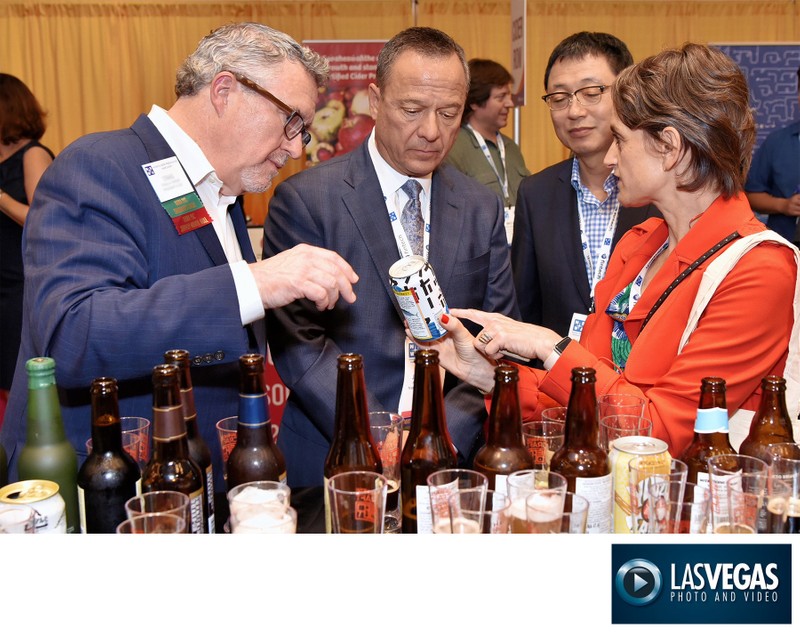 Reviewing packaging designs at the leading beverage organization industry expo.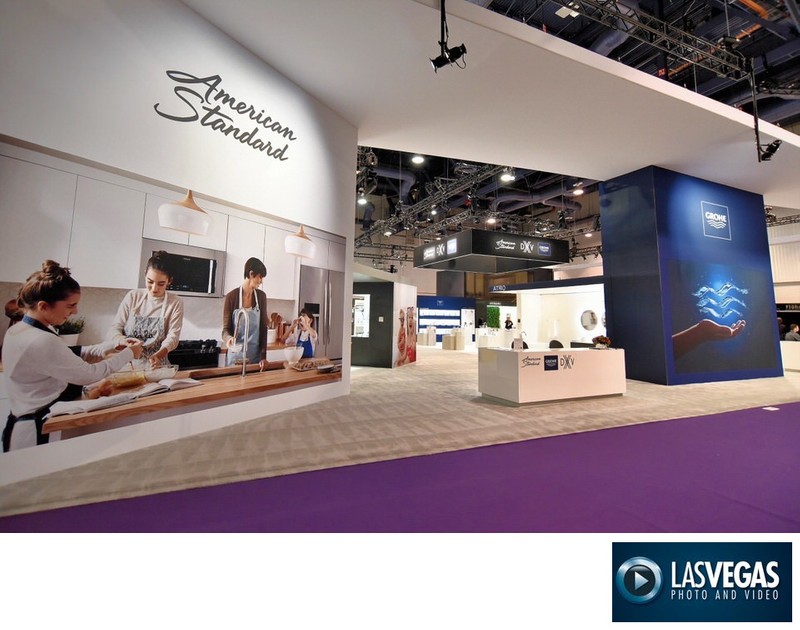 All is quiet at a large booth at the Las Vegas Convention Center before the trade show action starts and the crowds of excited industry attendees arrive.